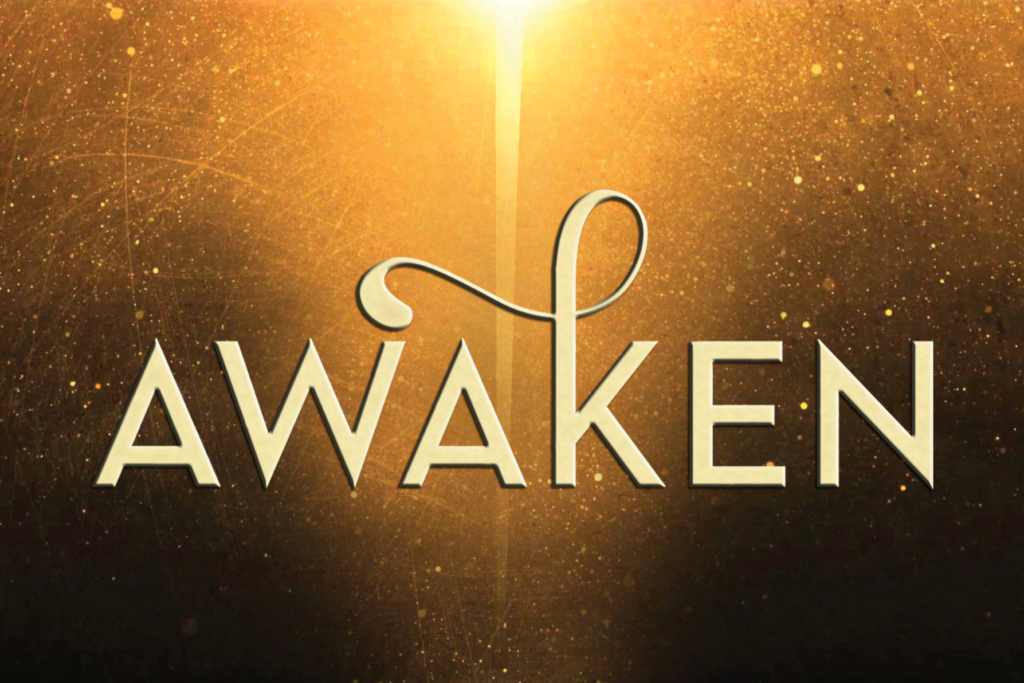 Awaken...to a new liturgical year…to the coming of our Savior…to the invitation to put HOLY into the Holiday Season…to the welcoming of the Incarnate Word of God in our midst…to God taking a risk and becoming one of us…to the importance of inviting loved ones and friends to share the Advent and Christmas story with us at church…to the celebration of our diversity. Awaken to a deeper spiritual consciousness of the sacred Advent and Christmas story.
Our Holy Family Advent this year will be guided by the word AWAKEN. You will see it displayed on the right and left angled spaces on either side of the north sanctuary walls and surrounded by other supportive words that have been lifted out of the Advent scriptures. Our hope is that as you reflect on these words that flank our altar, they will point to: the altar where we consecrate bread and wine, the ambo where sacred Scripture is proclaimed, and to our Cross of New Life that leads us in a special way this Advent and Christmas season to the new life of the Incarnate Son/Word of God, born in our midst once again.
The word display will look something like this:
Journey                        Peace                          Baptism
Voices                   AWAKEN                   Souls
Stories                     Loved Ones                        Faith
This weekend's scriptures introduce us to the journey of Advent and the Awakened spiritual consciousness that we need to be ready for the breaking of the Divine into our world at Christmas. You will also notice people holding AWAKEN signs as you LEAVE church, helping us all to remember that "the Mass never ends." So much of the real work of Awakening begins as we leave church and enter into the world beyond. Would you like to hold a sign after one of the Masses? Contact the Liturgy Office if you do. What do you need to Awaken to? What needs to Awaken in you?
Each week of Advent we will begin by lighting the wreath that will be pillared by our four baptismal fonts. We welcome and invite families to light the wreath and, in doing so, we hope to show the diversity of our families here at Holy Family. We are more diverse than we think. Please consider lighting the wreath with your family, and show us your piece of the tapestry of different families that are knit together to form our Holy Family.
In the wake of the mass shooting at the church in Texas recently, our staff asked Chief Bob Haas and Officer Mike Hish of the Inverness Police Department to help us update our emergency plan. They offered very good advice and their input helped us to revise some of our procedures during our all staff meeting two weeks ago. In addition, we have created an Emergency Plan Committee that has been reviewing our emergency procedures for the past three years and now meets every Wednesday to update training for staff, parishioners, ushers, Mass Coordinators and Catechists. We will share the details of these updates with you in the coming weeks so that we may all be clear on what to do in case of any one of a variety of disasters or emergencies. You could all start by simply identifying the exit in church that is closest to you as you take your seat. More to follow.
Reconciliation is a sacred experience. Jesus knew this and that is why we attribute the start or institution of the Sacrament of Reconciliation to him. We wish to offer MORE times for people to take advantage of the Sacrament. As of January 1 we will offer Reconciliation every Wednesday from 6-6:45 pm in the Reconciliation Room in the back of church. This is the one-on-one experience of the Sacrament that is referred to as Form A. The entire rite is individual and one on one with the priest. We believe that this an appropriate time to offer Reconciliation because it precedes our evening Mass EVERY Wednesday at 7:00pm. We will continue to offer Form B (a Reconciliation Service similar to what we offer in Advent and Lent which includes a scripture reading, brief homily, group examination of conscience, praying the Act of Contrition and then individual confession and absolution) on the first Saturday of each month in the chapel at 4:00pm.  THIS FORM IS FULLY APROVED BY THE CHURCH AND IS THE SACRAMENT OF RECONCILIATION. In addition, the Sacrament is always offered by appointment and as a group service during the seasons of Advent and Lent. In addition, other local parishes offer the sacrament at various times on Saturdays, but no other parish will offer it at 6:00pm on Wednesdays. Please note that our current Reconciliation schedule will remain until January 1. After that THERE WILL BE NO SACRAMANT OF RECONCILIATION OFFERED ON THE SECOND, THIRD, FOURTH (and when applicable FIFTH) SATURDAYS OF EACH MONTH AT 4:00pm.
Speaking of Reconciliation—our ADVENT RECONCILIATION SERVICE will be held on Tuesday, December 12 at 7:00pm in the church.
Kudos to young parishioners in our Flame (high school) Teen Faith Community who collected goodies to fill 22 boxes of Christmas Care Packages for US Army Units currently deployed in Iraq and other sites in the Middle East.  Mel Tomal's brother-in-law, Peter Keiser, is a member of one of these units.  Ignite (junior high) students will create and send care packages to troops for Valentine's Day.