Summer Mission Trip
---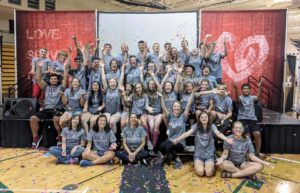 Contact
Amy Hodson
Phone: 847-907-34468
Email:
ahodson@holyfamilyparish.org
---
Description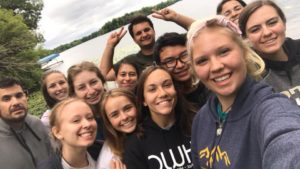 Catholic Heart Workcamp is a week long summer mission trip for teens going into 8th grade and higher. The mission is to revitalize communities and beautify homes for the elderly, disabled and those who cannot afford needed repairs This experience will empower participants to liveas disciples of Christ through serving others and foster the spiritual growth of each participant through the sacraments, Catholic faith sharing and prayer.
Travel with 30 teens from Holy Family to the Camp Location.
Join 300 other teens from around the country and get assigned to a work crew and worksite for the week.
Sleep, eat, and live at the host school for the week.
Start each day with Mass and morning program. Travel to your worksite to serve (painting, cleaning, building, clearing, sorting, interacting, etc.) Return to camp to enjoy free time with friends, experience musician-led music and prayer, and interact in high-energy games and activities.
Help others, grow closer to God, meet new people, have a blast, and MAKE A DIFFERENCE.
---
2020 Mission Trip
Farmington, Michigan
Sunday, June 21 – Friday, June 26
Estimated Cost: $500 per person (our goal is to lower the cost to $300 per person through fundraising, a $100 nonrefundable deposit is due at registration)
We have a total of 30 teen spots available and 6 adult spots.
First come first served.
Farmington is a city in Oakland County of the U.S. State of Michigan. It is one of the northern suburbs of Detroit. As of the 2010 census, the city population was 10,372. The area is known for its historic downtown, elegant Victorian-style homes, and one of Michigan's top rated public school systems, Farmington. In 2007 CNNMoney.com listed Farmington as number 55 in its "Best Places to Live" survey. Participating in a Catholic Heart Work Camp includes service in various ways! Teens can expect to complete acts of service like painting, cleaning, house work and assisting those who are elderly or disabled in the local community. On Friday the 27th, our "free day" is anticipated to be spending some time in the Indiana Dunes on our way back to Holy Family! We hope your teen will be able to join us for our always exciting and meaningful experience at Catholic Heart Work Camp!
Mission Trip Information
Register Here
Make a Payment