Contact
Laura Ferlita
Family and Teen Faith Office
LFerlita@holyfamilyparish.org
---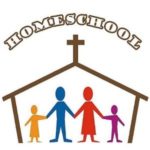 Benefits of home schooling for religious education
To have more quality family time
To give children with special needs one-on-one attention
To eliminate scheduling conflicts
To provide stability in the midst of frequent changes
Does the Catholic Church allow home schooling for Religious Education?
Yes! The Second Vatican Council document on Christian education, Gravissimum Educationis, states that parents, society, and the Church all have a duty regarding the education of children, but that the primary and principal duty belongs to parents.
What is expected of parents who choose to home school their children for religious education?

Participate in the Sunday assembly on a regular basisWHY? Liturgy in the parish community is where the proclamation of the Gospel begins and where we, regardless of age, are invited to conversion and to follow Christ.

Parent-catechists are expected to participate in catechist preparation (at least two In-Service opportunities that the parish provides).
Families who home-school for religious education will be asked to

use catechistical materials provided by the parish
submit completed work online at regular intervals
meet every six weeks with one of the Faith or Teen Faith staff.

Families who home school their children for religious education are asked to participate in the parish-based sacramental preparation programs.

In the case of Confirmation, home schooled students will be asked to

take part in community service opportunities,
attend the FLAME 1 & 2 Retreats
attend one of the PIZZA WITH THE PASTOR sessions.

WHY? Bringing children to the parish programs for sacramental preparation further enriches their lives by bringing them into contact with other adults and with peers on the same faith journey.
Cost for the home-schooling option
Tuition: $200.00 per family per year (a $100.00 non-refundable deposit is due at the time of registration)
Instructional Materials: $25.00 per child per year
Sacramental and retreat fees will be in addition to tuition (for a listing of these fees see the parish website)