Contacts
Greg Holysz
847-934-6702
gregrholysz@aol.com
---
We bring Christ's love and forgiveness to all incarcerated individuals, their families and those who work with them.  We assist the incarcerated in the transition to becoming productive Christians.
Inside ministry teams will meet 5-6 times during the 3 month Formation period.  Then the teams will host a 4 day Retreat Weekend within a correctional center.  Retreats are held twice a year.
At this time, due to COVID, all visitations have been suspended until further notice.
Activities in this ministry:
Inside Kairos Volunteers– participate in Retreat Weekends at the prison 2/year.
Prayer Support–  Prayer during the entire Weekend is vital to the success of the ministry
Cookie Bakers–    Dozens of cookies are required for a typical Kairos Retreat Weekend.
Children and Youth–  Groups and individuals can draw placemats or wall posters for the Weekend to show that others are keeping the participants in their prayers.  The posters are very meaning full to those inside prison walls.
Agape Poster Makers–  Encouraging letters, posters, placemats and banners addressed to the entire Weekend community and done in prayerful love make a large impact on the participants.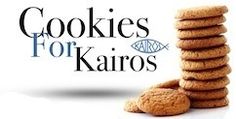 Kairos Prison Ministries International