The Pastoral Council at Holy Family is a consultative body which unites laity and clergy in a community of prayer, leadership, service and pastoral planning.  Its purpose is to create community as a sign and witness of unity for the entire Parish. The Council provides recommendations for Parish priorities and promotes communication and understanding among Parish organizations and the Parish and the Archdiocese. Individual Council members embrace the Mission Statement and work within the context of the Pillars of our strategic plan.   They must be active in parish life to maintain open dialogue and a communication link between the parishioners and Parish leadership. The Holy Family Pastoral Council is presently recruiting interested, motivated and aware Parishioners for 2 vacancies on the Council.  Interested parties may submit an indication of interest to Ro Geisler, Parish Manager, rgeisler@holyfamilyparish.org, or Mike Myers, Chair of the Parish Council, pastoralcouncil@holyfamilyparish.org,  for consideration.
The Pastoral Council is discerned from the Leadership Communities which are representative of the Parish community. The Council is charged with the responsibility of researching the needs, cares and concerns of the parish community, keeping constant the Parish Mission and Vision and strategic plan for the community, assuring collaboration, communication, and synergy among the many ministries and small groups within the parish.
The Pastoral Council consists of 13 members – 2 permanent members, the Pastor, and a Staff Representative discerned from the Directors by the Pastor. The Council Chair and 8 members representing the communities of the Strategic Plan Pillars plus 1 member of the Knights of Columbus.  Member attendance is required at each meeting.  Additionally, there are 4 Representatives – 1 Adult from the Teen Faith Ministry, 2 students from the Teen Faith Ministry, and an Archdiocesan Deanery representative.  Meeting attendance is as necessary for reporting and update purposes. 
The Council meets on the third (3rd) Tuesday evening each month except July and December.  Officers and new members are discerned at the October Council meeting each year.  All are welcome to attend the meetings, however, anyone wishing to present must submit a request to the Council Chair.
Email: Pastoralcouncil@holyfamilyparish.org
Pastoral Council Leadership
| | |
| --- | --- |
| MEMBERS |   |
| Adult Spiritual Growth | Bill Leece |
| Charity, Justice & Pastoral Care | Luis Gutierrez |
| Community Building |   |
| Leadership Development           |   |
| Sacramental Theology and Practice |   |
| Stewardship of Resources | Pete Barber |
| Worship            |   |
| Knights of Columbus | Greg Flanagan |
| REPRESENTATIVES |   |
| Chair | Mike Myers |
| Holy Family Academy | Mike Pazur |
| Teen Faith Ministry-Adult          | Joan Sloan |
| Teen Faith Ministry-Student | |
| Teen Faith Ministry-Student      | |
| Deanery Representative | Chad Archer |
| STAFF |   |
| Pastor | Fr. Terry Keehan |
| Staff | Sue Geegan |
|   |   |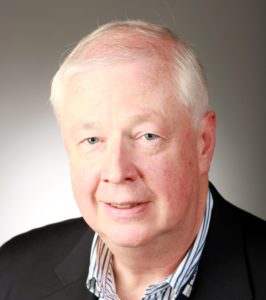 Mike and his wife, Diana, who is part of the Holy Family Catholic Academy faculty, have been members of the parish for 15 years. This is Mike's second term on the Council, having served from 2010 through 2013. He earned an MBA from Kellstadt Graduate School of Business, DePaul University in Chicago, where he also spent 15 years teaching in graduate school. He presently manages the healthcare division of an equipment leasing firm in Deerfield, IL. Mike looks forward to helping Holy Family enter its next chapter and will work on implementing the strategic plan and Mission Statement.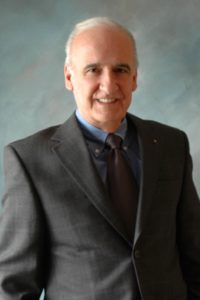 Bill Leece | Adult Spiritual Growth
Bill, a dual citizen, was born in Canada. He obtained his undergraduate degree at Loyola of Montréal and his graduate degree at Loyola of Chicago where he met his wife Carolyn; they have a married son who lives in California.
Bill and Carolyn joined the Parish in 2005 and thanks to Pat Brennan became involved in adult education. The following year they were invited to join the Knuth Small Christian Community. Their involvement in adult education, the Small Christian Community, and Holy Family Parish for them has been a blessing beyond all imaginings.
Bill taught in Catholic and public high schools for 35 years and continues part-time work in Illinois high schools, for him another blessing beyond all imagining.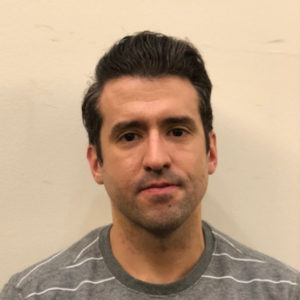 Luis Gutierrez | Charity, Justice & Pastoral Care
Luis Gutierrez, and his wife Daniella along with their three children have been parishioners since 2014. He spent his early years growing up in Spain, until his family decided to move to the United States. After spending about nine years in New Jersey he attended the University of Chicago where he earned a Bachelor of Science in Mathematics. He has worked in finance for the last 18 years, where he earned an MBA from Northwestern University's Kellogg School of Management and currently works for Oppenheimer Inc. & Co. Luis looks forward to continuing the mission of Holy Family, "To engage all in the sacramental life through vibrant worship, life-long learning and passionate community."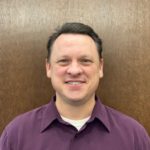 Mike Pazur | Holy Family Academy
| Sacramental Theology and Practice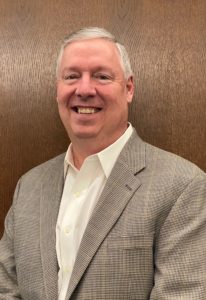 Pete Barber | Stewardship of Resources
Pete and his wife Sharon, along with their children, Kevin, Emalie and Erich have been members of Holy Family Parish for 22 years. After 33 years, Pete retired from the Campbell Soup Company in 2016. He is currently a part-time wine consultant for Binny's. In addition to being a member of the Pastoral Council Pete is a lead usher at our 9am mass and recently completed working on our successful capital campaign. And yes, he is a Green Bay Packers fan.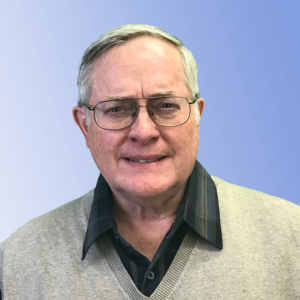 Greg Flanagan | Knights of Columbus
Greg Flanagan lives in Hoffman Estates with his bride of many many years, Anita. They have three married adult daughters and six grandchildren. Greg and Anita are founding members of Holy Family.  Greg graduated from Notre Dame HS, Northern Illinois University (Go Huskies!) and Loyola of Chicago.  He worked his entire professional career in Human Resources at Motorola Inc., retiring as Director of HR for Mergers and Acquisitions. Greg is presently heavily involved in volunteerism with the Knights of Columbus, PADS, Ministry of Care and is a coordinator/worker bee for several other church & community programs. Other interests include grand parenting, genealogy, and cheering on the Cubs!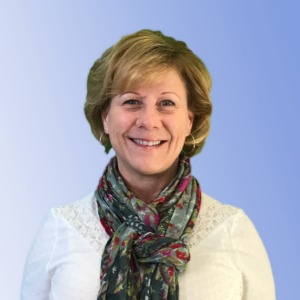 Joan Sloan | Teen Faith Ministry-Adult
| Teen Faith Ministry-Student
| Teen Faith Ministry-Student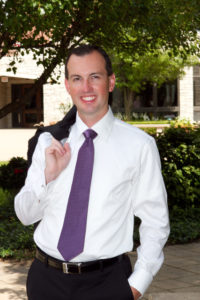 Chad Archer | Deanery Representative
Holy Family has been the foundation of Chad and his wife Roshny's relationship for nearly as long as they've known each other. She invited him to Mass on Easter Sunday 2010, he later joined the choir, and upon getting married at Holy family in 2011 started RCIA and was confirmed at Easter Vigil 2012. They now have two children that have been baptized at Holy Family, one of which has started school at the Academy and enjoys Kid Church. Originally from Clyde, OH, Chad has a degree in Finance from Florida State and an MBA from Kellogg School of Management at Northwestern. Today he resides in Palatine and works for Illinois Tool Works as a Global Division Controller. Chad is looking forward to representing the parish as the Deanery Representative and learning more about the broader Vicariate and Archdiocese of Chicago.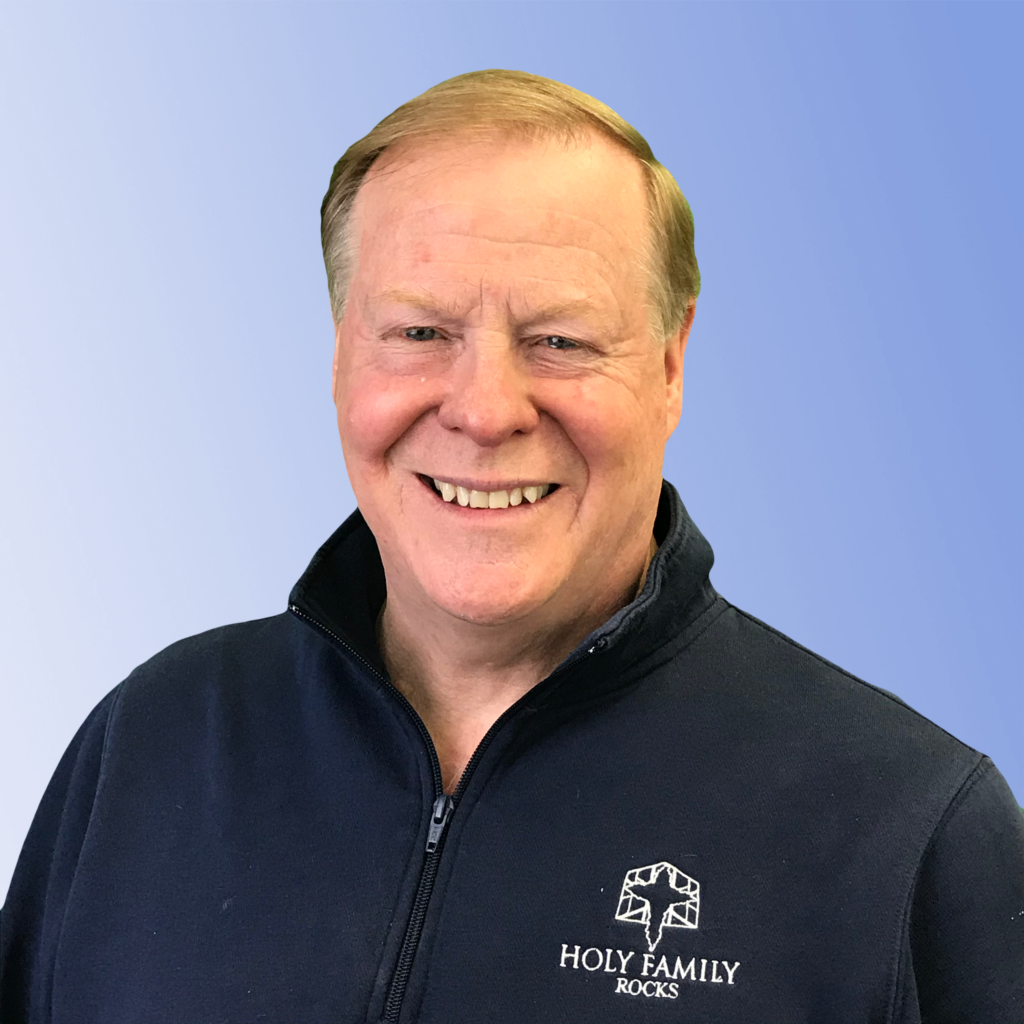 Fr. Terry Keehan | Pastor
Father Terry became the third pastor of Holy Family Parish in 2009.  He spent most of his childhood in Arlington Heights and attended St. Viator High School.  He went to the University of Nebraska, Omaha on a basketball scholarship and played in the NCAA Div. II Tournament three of his four years.  Before entering the seminary in 1982, Father Terry earned a Bachelor of Science in Speech Pathology and a Master of Arts in Organizational Communication.  He was employed in pharmaceutical sales and became very involved in the young adult programs at Old St. Pat's Parish.  He was also instrumental in forming the popular Theology on Tap.  After ordination, Father Terry worked in the Vocation Office, Chicago Archdiocese from 1986 to 1994.  Then he became Associate Pastor, Queen of Angels Parish in Lincoln Square.  In 1999, Fr. Terry was the Pastor of St. Matthias and also became Pastor of nearby Transfiguration Parish where he served until coming to Holy Family.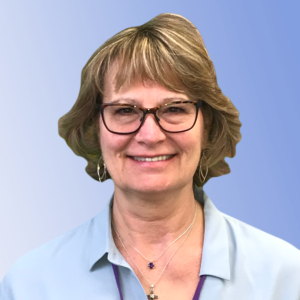 My husband, Pat, and I joined Holy Family in 1986. Our first few worship experiences were in the cafeteria at Fremd High School. We have two adult children and one granddaughter. I completed the RCIA process many years ago and became very involved with the parish since that time. My volunteering efforts turned into a staff position in 2002 and have been involved with outreach and human concerns issues since that time. It is an honor to partner with staff and parishioners serving our parish and community.