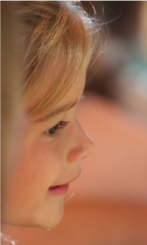 Adam's Apple Pre-k and Kindergarten Program
Contact
Laura Ferlita
Family and Teen Faith Office
Phone: 847-907-3436
PROGRAM DESCRIPTION
Adam's Apple is Family Faith's program for our Pre-K/Kindergarten kids.  It meets fourteen times a year on Sunday morning from 9:00-10:00 am.  This gives parents the opportunity to worship at the 9:00 am Mass.   Adam's Apple kids are also invited and encouraged to attend our monthly FM Masses with their families.  FM Masses are celebrated at
9:00 am.
Class sizes are limited to fifteen and fill quickly. 
CLICK HERE to begin the registration process for Adam's Apple.  If you have already registered your older children you can simply open your REALM account and add your Pre-K/K kids.
Tuition for the year is $50.00 for one child, $75.00 for two or more.
Classes will begin this year on Sunday, September 11, 2022.
Adam's Apple Curriculum
This program focuses on the Sunday readings.  We use the Pflaum Gospel Weeklies as a class resource along with crafts, music, stories, videos, and games. The Gospel Weeklies provide a lively and engaging way for catechists and parents to help young children experience the Gospel stories and learn about the liturgical seasons of the Church year. 
From September-May, each child receives a weekly colorful hands-on four-page handout, designed for this age group.  On the weeks that our Adam's Apple kids do not meet with their catechist and each other, we provide families with on-line access to all the Pflaum materials. This includes the weekly videos, handouts, and the Parent Teaching Pages (easy-to-use guides that walk parents through teaching each lesson with step-by-step instructions, background information, and discussion starters) so families can continue to share the 'joy of the Gospel' with each other.
2022-2023 Class Dates
Sept 11/25; Oct 2/30 
Nov 6/13; Dec 4/11
Jan 8; Feb 5/26
Mar 5/12; Apr 15/30

2022-2023 FM Mass Dates
Sept 18; Oct 16
Nov 20; Dec 24 (optional)
Jan 22; Feb 12
Mar 19; Apr 23; May 14