PREPARING FOR CONFIRMATION AT HOLY FAMILY
Be sealed with the gift of the Holy Spirit!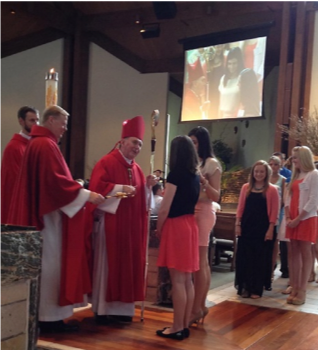 Teens celebrate the sacrament of Confirmation at Holy Family
To confirm means to affirm, make definite, ratify, approve, validate, and recommend.
In the sacrament of Confirmation, God marks us with an indelible seal.  The seal of the Holy Spirit signifies our enrollment in God's service. With this gift, God affirms our essential goodness and reaffirms our role as partners in the great work of salvation.
"I chose you and appointed you so that you might go and bear fruit—fruit that will last"   John 15:16b
This deeply personal affirmation of who we are, (and whose we are), is given to instill in us a longing for a deeper and more intimate connection with the Lord; a sincere desire to belong to Christ and the community Christ raises up to build the Kingdom of God, the Church. 
In response to God's trust in us, the sacrament of Confirmation also celebrates our public commitment to become compelling witnesses of the gospel, sharing with all the good news of God's great love. This divine seal is a public endorsement by our God through the community of faith (the Church) of the truth and authenticity of our experiences of God's presence within and among us, completing the work done on our behalf at Baptism.
See the documents below for details about our Confirmation Preparation Process.