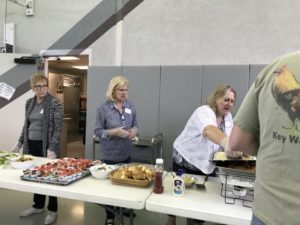 Contact
Name: Dawn Wagner
Phone: 847-809-4489
Email: dawn.m.wagner@comcast.net 
Holy Family Catholic Community and other seasonal PADS sites saw the need to continue to feed the homeless in our neighborhood while PADS is closed throughout the summer months. Hence, the Summer Suppers for the Homeless began at a church in Palatine and quickly grew to others in the area. Offering a nutritious supper most evenings of the month means a lot. It may be the only meal they eat that day.
2021 Calendar (Click Here)
Volunteers are needed
A limited number of On Site Volunteers are needed from 5:00-7:30pm to assemble donated food into clamshells and to hand out meals in a contactless drive-through distribution. There is no training required, however only high school aged and older are requested. Anyone high school aged will need a parent or guardian to accompany them
You must register to volunteer. Contact Sue at sgeegan@holyfamilyparish.org or 847-907-3443. Due to social distancing, we cannot accept walk-in volunteers.
Food Donations
Volunteers are also needed to donate food items for dinners.
Needed menu items are provided on Carecalendar.
ID: 134413     Password: 9236.