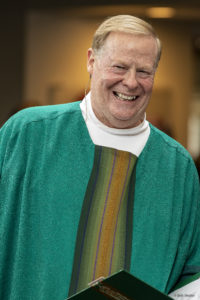 Dear Friends,
We are a large Catholic community in the northwest suburbs of Chicago. The community is about 4,000 families and nearly 15,000 members, but we also have many programs and groups that gather in much smaller and more intimate settings. Holy Family worship services are stimulating, insightful and musical. Our faith community is vibrant, our reach-out is compassionate, our adult formation is creative, our education programs are cutting edge and our welcome is warm. Most importantly we believe that all of this is rooted in our commission from Jesus Christ to actively and courageously live the Gospel call and invite all to new life in Christ. On our website, you'll find a taste of the spirit that is present at Holy Family Catholic Community. See for yourself what Holy Family has to offer. We welcome you to visit one of our events or to attend Mass any time. If you are searching for a spiritual home we invite you to learn more about the parish and contact me or our parish office with any questions.
May God bless you and your family.
Sincerely,
Rev. Terence M. Keehan, Pastor
Join Holy Family
Many people join our faith community because of our welcoming atmosphere, vibrant worship and a wide variety of ministries guided by Catholic social teaching.  People of all ages come to us with a sacramental need such as marriage or baptism. Some are seeking faith education for themselves or their children.  Wherever you are in your spiritual journey, Holy Family has a place for you.
Use the form below to begin the enrollment process. If you have any additional questions please contact Sue Geegan by phone at 847-907-3443 or by email at sgeegan@holyfamilyparish.org.