Holy Family has a long history of supporting Catholic social teaching through our various ministries, Lenten social justice programs and local community outreach.
The Welcome the Stranger Ministry is an extension of Holy Family's mission statement. We look to address the humanitarian and spiritual needs of refugees, migrants, and asylum seekers as they seek status in the United States. We recognize the dignity of every man, woman, and child as they seek the basic need of shelter, jobs, and security as they progress through this trying process.
Our efforts reflect the Church's call to welcome the stranger while respecting and supporting the United States' process to obtain legal status. Our goal is to provide a compassionate bridge between these two. requirements.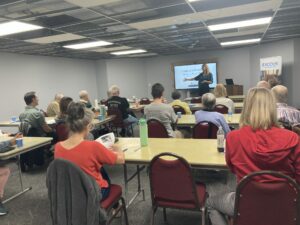 "Welcome the Stranger" Ministry, 9/9/23
Engaging with Refugees: Cross-Cultural Training was a huge success. If you would like more information about this training, contact Myra Buettner at myrabuettner@outlook.com or 847-609-3682 with any questions.
Holy Family Helps Refugee Family Resettle August, 2023
Through the generosity of Holy Family Parishioners, a Sudanese family of six were welcomed to their new home in the western suburbs.

Holy Family assistance provided household goods (i.e.: linens, sheets, pots, etc.) and an initial supply of food, reflective of their ethnic diet. The family expressed their deep gratitude for our help.