Contact:
Sue Geegan
sgeegan@holyfamilyparish.org
847-907-3443
Our Catholic faith calls us to engage in Prayer, Fasting and Alms-giving for Lent
Prayer – Lent is essentially an act of prayer spread out over 40 days. As we pray, we go on a journey, one that hopefully brings us closer to Christ and leaves us changed by the encounter with him.
Fasting – Fasting is more than giving up a certain food or drink. It is an opportunity to provide an emptiness which allows more space for God to enter our lives and transform us.
Alms-giving – Through prayer and fasting, we grow in solidarity with others living in despair or without basic, adequate resources and turn our attention away from ourselves and to the suffering of our brothers and sisters, no matter where they live. Alms-giving is additional generosity beyond your financial support of Holy Family's regular operation of our mission and the quality programs offered.
Each Lent since 2014, Holy Family Catholic Community has promoted a Lenten social justice project to support an organization or mission diocese working to address a need within their community. Steeped in Catholic social teaching, we educate the parish about a specific justice issue and offer prayers, fasting, and financial support in solidarity with that community.
Several of those projects have been in partnership with Catholic Extension Society to support mission dioceses throughout the United States and other foreign countries, where the needs are great and the Church is growing. Our efforts have also supported local programs addressing the need for housing, violence prevention, and care for the economically-challenged elderly.
Lenten Social Justice Projects have raised over $621,853.
Scroll down to see a listing of these earlier projects.
2023 Lenten Social Justice Project
A message from Fr. Terry
"The lay life is the life of the Church" – Rev. Jean Baptiste Muard, founder of the Edmundite Missions, 1843
I really like this quote.  I BELIEVE in this quote. It expresses the spirit of Vatican II, only 120 years before the Council was convened.  The Edmundite Missionaries have been empowering lay people and respecting the life of the laity for 180 years. Muard founded the Edmundites in Pontigny, France in 1843.  Then amidst radical anti-clericalism in France at the time, the Missionaries moved to a French friendly Montreal, Canada and then to Winooski, Vermont to establish St. Michaels College which today has an enrollment of 3,000 students. 
In 1937 the Edmundites were called by God to serve the poorest of the poor Black Americans in Selma, Alabama.  They have served that community ever since with programing and ministry in four main areas:
* Health          * Self Reliance         * Nutrition and        * Education
This past week, Sue Geegan our Director of Human Concerns, Eric Kramp our new Parish Manager and I visited the Mission in Selma.  Our partners with Catholic Extension Society sponsored our trip and, as they have for several previous Lenten Social Justice Projects, they once again introduced us to a group of very dedicated, faith-filled people.
The Edmundites that we are assisting are all Lay Ministers.  Their work carries out the spirit of their founder Rev, Jean Baptiste Muard.  They are Lay people serving Lay people in the name of the Catholic Church. In doing so, they are carrying out every tenet of Catholic Social Teaching:
        Respecting Life                                              
        Protecting the Rights and Responsibilities of Life
        Strengthening the Community, particularly the most fundamental community—the family
        Supporting the Dignity of Work
        Solidarity
        Care for Creation
        Exercising a basic and fundamental outreach to the Poor
Like all good Missionaries, the Edmundites are always looking for new frontiers, new challenges and new ways to proclaim the Gospel of Jesus Christ.  Their newest frontier is to engage College Students in their ministry and their commitment to the principals cited above.
The Mission has several buildings that house activities and ministries and they recently purchased a building that needs renovation to house these college students. The funds that we generate will go directly to the renovation of that building.
"If you build it, they will come."  A voice from the movie Field of Dreams
The building will be called the Casey Center after Fr.Casey who played a critical role in the movement of the Order to Selma.  Renovating the building will cost $1 Million.  They have already raised $750,000 and we are hoping to raise at least $50,000 to assist them and move closer to empowering college students and advancing their mission.    
In addition to the many challenges of the Edmundites in Selma, on January 12 of this year a tornado ripped through the town.  The facilities that the Edmundites own and operate had very minimal damage thank God.  However, that tragedy displaced many residents and increased the number of people needing their services.
Please help to house college students from across the country learning about the importance of service and Social Justice.  As we help to house them they will learn about basic health needs met by the Mission's clinic, about nutrition and to see that many of the former clients of their Soup Kitchen now work there and teach others about good nutrition.  They will learn the dignity of work as they empower residents to gain employment and they will learn the significant role that education plays in moving from poverty to productivity.
Familiarize yourself with more details of how the Edmundites, with our help, will form a new generation of Catholic leaders.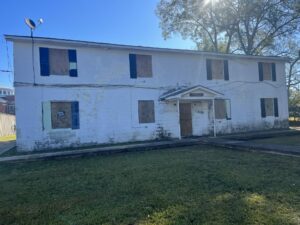 Support the expansion of the Edmundite Missions in Selma, AL.  Help build the Casey Center for Faith and Community Service – Integrating Faith, Service and Social Justice. 
For more than three generations, the Society of St. Edmund has promoted and championed the healing presence of Jesus Christ through programs that sustain those who are most vulnerable within the Black Belt of Alabama.
The Missions understands that in order to drive long-term change and develop sustainable solutions to the societal deficits inherent to its founding, a networked approach to problem solving must be addressed. A critical component of this networked approach has been maintaining a volunteer program to engage college and university students.
Over the last several years, the Missions has restructured its volunteer program.  The longer-term goal is to engage young people in experiential opportunities that both define the role of the individual in community problem solving and to align their "faith" in light of their search for meaning, purpose and societal impact. As such, this program will evolve into a field site for young people to deepen their understanding and commitment to the pursuit of social justice and civic engagement through the lens of Catholic social justice teaching. 
As nearly all Catholic colleges and universities maintain "social justice" as the heart of their volunteer programs, the Missions will focus on engaging those institutions where there is a formal social justice program with academic content and where supervising faculty are able to shape such experiential education within a social justice and community engagement context. 
In order to grow this program successfully, the Missions must secure sufficient housing for such long-term volunteers, proximate to the work to ensure participant security. That housing must be safe and secure, accommodate male and female volunteers appropriately and include space for supervising professors or group leaders with some amount of personal and professional privacy. 
  
The Missions envisions that this facility, named The Casey Center for Faith and Community Service, would serve as the heart of a dynamic collegiate internship program, accommodating a growing number of institutions of higher education whose students wish to join the Missions' commitment to service, social responsibility and moral reflection. Currently, there are no facilities in the proximate area that provides the service that will be provided by the Casey Center. The Missions anticipate that the total number of families that are directly served by the increased number of students supporting the programs will be 6,000 families.  
Past Lenten Social Justice Projects