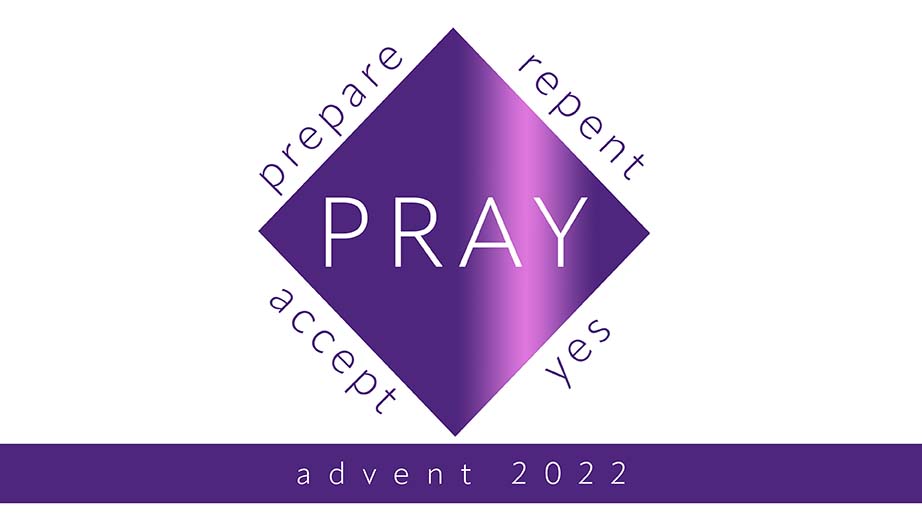 Dear Holy Family Community, Prayer is at the center of all we do as Christians but the rhythms of the seasons give us changing manners and focal points to that prayer. Our Catholic Faith tradition offers a wide variety of prayer types and experiences. Prayer is so basic in importance and yet, so diverse in style, focus, intention and expression. How and for whom and what we pray gives flavor, and highlights the seasonal adventure of our faith. This Advent we want to emphasize the unique prayer experience that emanates from the season that ushers in the birth of Christ. Our Advent theme is in fact an Acronym rooted in Prayer: Prepare Repent Accept Yes These words articulate the four weeks of Advent and the major movements of the soul that will be captured in our Liturgies as we get ready for Christmas. John the Baptist is always the voice telling us to PREPARE. He also calls us to change and REPENT. Mary ACCEPTS the overshadowing of the Holy Spirit in her life to conceive the Christ Child and she and Joseph bravely said YES to the mysterious challenge from God's messenger. Join us as we P.R.A.Y. this Advent in the great tradition of Holy Family, vibrant and transformative, not only in our Liturgies.
December 3/4, 10/11, & 17/18 Masses
Saturday 5:00 p.m. Sunday 7:30, 9:00*, 11:00 a.m.

Dec. 17 5:00 p.m. Mass (includes Simbang Gabi celebration)

Solemnity of the Immaculate Conception
Thursday, December 8 at 9:00 a.m.* & 7:00 p.m.

Christmas Tree Lighting
Sunday, December 11 at 4:30 p.m. in the parking lot

All Parish Reconciliation
Wednesday, December 14 at 7:00 p.m.

Individual Reconciliation
Monday Evenings 5:30 – 7:00 p.m. December 12 & 19 5:30 – 7:30 p.m.
No Reconciliation December 26 or January 2.
HFCA Grades 1-5 Christmas Program
December 15 at 2:00 & 6:00 p.m.
Christmas Eve & Day Schedule
December 24 Masses
12:30 p.m. Family Mass in the church (Not A Vigil Mass)
3:00 p.m. Christmas Vigil Mass in the church*
3:30 p.m. Christmas Vigil Mass in the gym
9:00 p.m. Christmas Vigil Mass in the church*
Christmas Day Mass
10:00 a.m. Christmas Mass*
December 31/January 1 Masses
Solemnity of Mary, the Holy Mother of God Saturday 5:00 p.m. Sunday 7:30, 9:00*, 11:00 a.m.
*Also livestreamed
Seasonal Building and Office Hours
The building will be closed (no Mass) on Dec 26.
The building will be closed immediately following the 9 a.m. Mass on Dec 23, Dec 30 and Jan 2.