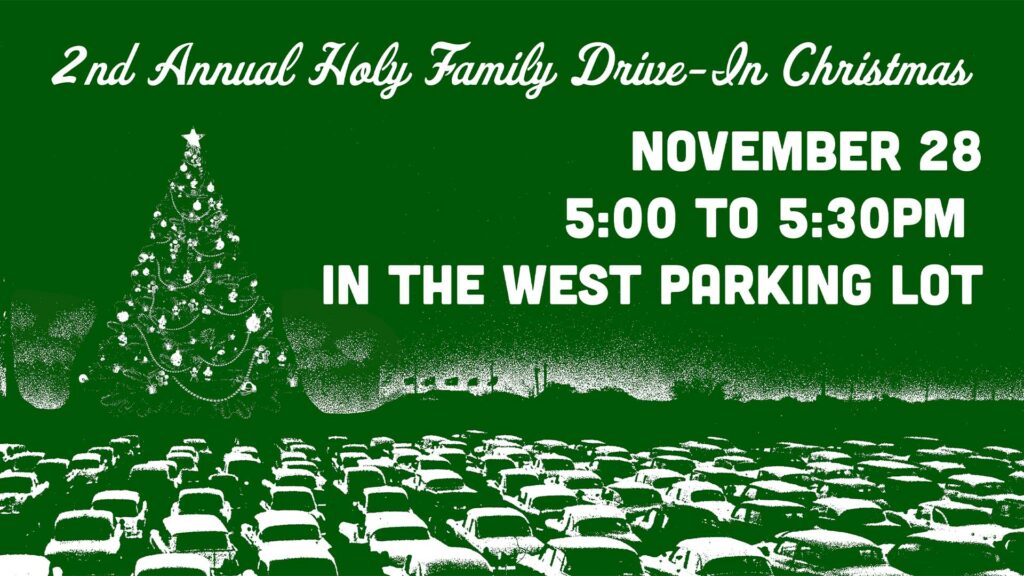 Tree Lighting Ceremony
Carols
Inspirational Message
Adults & Kids of Any Age
Small Gift Bags For Kids
Special Appearance by North Pole VIP
Our second annual Holy Family Drive-In Christmas is Sunday, November 28, from 5:00 to 5:30 in the West parking lot. The event will include a tree lighting ceremony to help us kick off our Advent season, Christmas Carols and words of inspiration, along with goodie bags for the kids! You can even enjoy the event, if you choose to, from the warmth and comfort of your own car. For more information, log on to our website.
Please enter Holy Family off Palatine Road (other entrances will be closed) Please follow the directions of the Knights directing traffic:
Once in the West Parking lot, tune your car radio to the designated station, more info will be available at the event. 
Volunteers will distribute the Goody Bags for each child 10 years of age or younger, to the cars in the parking lot prior to the beginning of the service.
Once parked, please turn off your car lights.  If you plan to listen to the service on your car radio and your car is not running be mindful of the draw on your car's battery.
Those attending the service will be invited to leave their cars (weather permitting) for the actual countdown and tree lighting.  Fr. Terry will invite the children to join him in the countdown.
When leaving at the end of the service, please follow the directions of the Knights directing traffic.  Be mindful of children present in the parking lot, who may not yet have returned to their own cars.  SAFETY FIRST!